WHY VISIT CANCUN, MEXICO?
Cancun is one of the best-known tourist destinations in Mexico — the sixth most-visited nation in the world. It has wonderful and exotic beaches, with turquoise waters, white sands, lush vegetation and a pleasant climate. It's the perfect place to escape the winter season or the stress that you may have accumulated at work. You will never regret getting to know one of the best beaches in the entire world.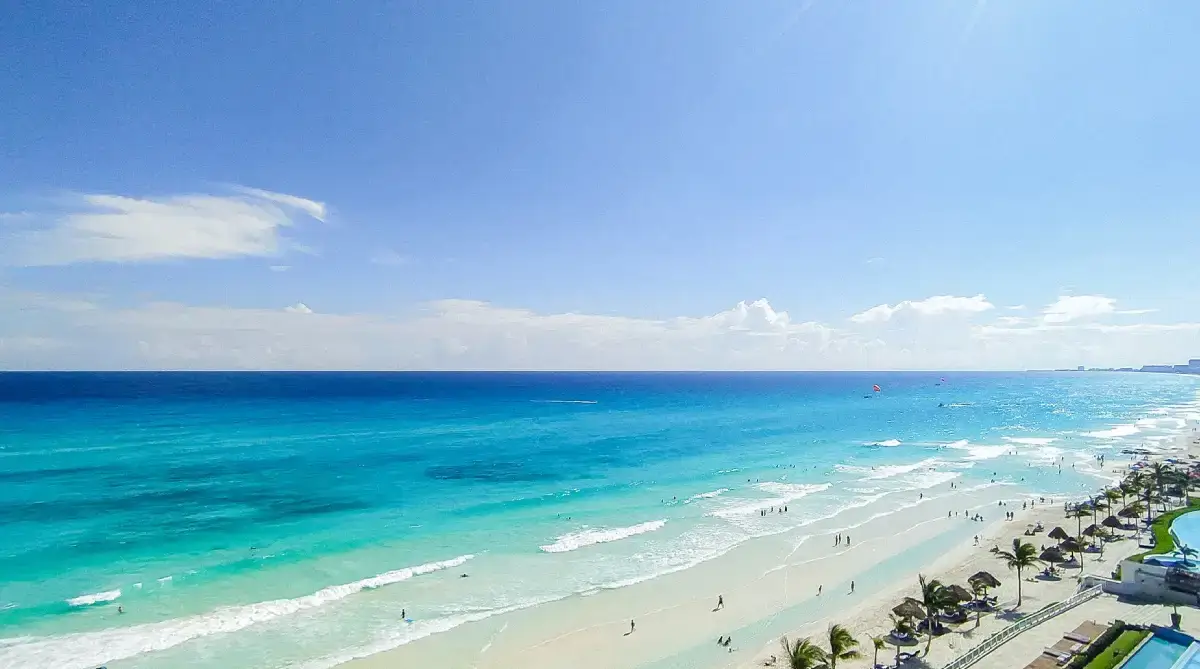 Have you ever wondered how the beaches of Cancun became the most-visited beaches in the world?
You might be surprised to learn that just 50 years ago, Cancun was covered by jungle, the beaches that we can enjoy today were virgin, and people knew little about the history of the Mayans in the area. That is, until the 1970s, when archeologists discovered new ruins in Cancun.
As Cancun's history was being revealed, it was also noticed that the weather was quite pleasant 365 days a year, and that the views of the crystal-clear sea were unmatched compared to other beaches.
As the first hotels were being built in the area, word spread quickly — and just like that, Cancun became a boomtown. Tourism brought money and jobs on a scale never before seen in the region. There were more and more hotels, more construction, more tourists who love our Mexican beaches, and many more Mexicans wanting to live in the great Caribbean.
Cancun is the ideal place to rest, enjoy the beach with incredible views that nature gives us where endless activities can be done, and learn about the great cultural history that represents us, our roots and archaeological sites. When visiting these beautiful beaches, you will see with your own eyes how vast and enriched our beautiful and beloved Mexico is in its nature — and that's not even counting our unique flora and world-famous gastronomy.
Visiting and getting to know Cancun is like spending a few days in paradise. Imagine walking on the soft white sand, enjoying the view of the immense sea with different shades of turquoise, feeling warm breeze and enjoying your stay in one of Cancun's best hotels — the Royal Solaris Cancun comes to mind — with an exotic and refreshing cocktail in your hand.
After a bad run with the pandemic, the world wants to resume these trips that fill us with life, that make us realize that there is so much to know and enjoy. Now is the time to start planning our next great trip, to get to know amazing Cancun! Of course, a great trip to Cancun calls for a great stay — and you can't do better than one of the best hotels in the Solaris family.
Book your vacation right now
and experience an incredible vacations!
Things to do in Cancun
There are endless places to go and things to do in Cancun, but these are 10 you don't want to miss:
1. Isla Mujeres: A small island 20 minutes from Cancun where you can snorkel and dive. It is the second-largest coral reef in the world.
2. Chichen Itza: Just two hours from Cancun, Chichen Itza is one of the best-preserved Mayan ceremonial centers with Toltec influences. The crown jewel is a majestic pyramid that will leave you astonished.
3. El Meco Archaeological Zone: A small, but no less important site of Mayan culture, boasting the largest Mayan pyramid in the region. Located at kilometer 2.7 of the highway connecting Puerto Juárez with Punta Sam.
4. Holbox Island: One of several tourist paradises in the Mexican Caribbean. It is an island of beautiful beaches and magnificent landscapes.
5. Visit a Cenote: Cenotes are deep water wells that are fed by rainfall and by the currents of rivers born deep underground. These wells owe their name to the Mayans, who baptized them with the word Dz'onot, which means "cavern with water."
6. Visit Xcaret: Located a few minutes from Playa del Carmen, south of Cancun in the Mayan Riviera, Xcaret has endless attractions and activities — so you'll need a full day to get to know it. Inside we find small Mayan ruins, water activities and much more.
7. Tulum: Located an hour and a half south of Cancun, above a 15-meter cliff on the edge of the turquoise Caribbean Sea. Tulum's greatest attraction is the combination of the ruins with the amazing hues of the Caribbean Sea.
8. Excursion to Cobá ruins: Approximately two and a half hours from Cancun, the ruins of Cobá differ from other archaeological sites in the Yucatan Peninsula. Features 4 natural lakes known as the "Wind-tossed waters."
9. Stroll along Avenida Kukulkan: Also known as Cancun's Hotel Zone, Avenida Kukulkan is an avenue of beachfront resorts that separates the Caribbean Sea from Laguna Nichupté. This long, flat strip is home to some of the best shopping, dining, and nightlife in Cancun.
10. Downtown Cancun: Downtown Cancun is a center of shopping and dining where tradition and modernity go hand in hand. The main strip in the area is Tulum Avenue, which very easy to recognize by the enormous sculpture of shells and shellfish in the middle of a roundabout. Here you can find restaurants, movie theaters, craft markets, shops, department stores, and shopping malls.
There is so much more that makes Cancun an unmissable destination. Go! Right now — start organizing your next vacation to get to know the Mexican Caribbean. The all-inclusive Royal Solaris Cancun resort and the whole Solaris family will be waiting for you with open arms. We promise you the best in comfort, tranquility and service. You deserve first-class. Visit the official Royal Solaris Cancun website.